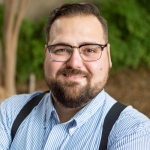 Sam is the President of the Abilene PRIDE Alliance. He is a local progressive, rural government activist and works at TRUST Web (a web design firm) as the owner. He is also co-owner of WHITL Woodworking (a jewelry manufacturer).

Sam has been an avid organizer since he attended the University of North Texas studying psychology. It's a passion that followed him his entire life.

He ran for the Texas House of Representatives in 2018 and again in 2020 to draw attention to the lack of education funding facing Texas and the dire situation that most rural water infrastructure was in. Sam's hometown made national news several times for the amount of lead content in their drinking water. The issue remains unaddressed.

In 2019 when he was chair of Indivisible Abilene he helped to put on Abilene's largest PRIDE event to that point in two weeks on $500. Over 500 people were in attendance at Everman Park. It was this event that would lead to the creation of the Abilene PRIDE Alliance.

In the fall of 2019 Sam, James, and several other LGBTQIA people held the first Abilene PRIDE alliance meetings. Since then, they have formed an online database for affirming businesses and organizations and organize the yearly PRIDE event.